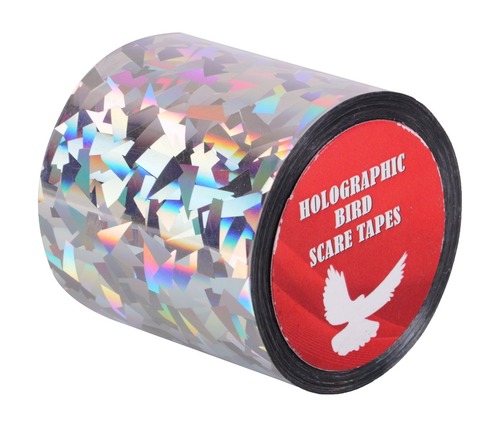 BIRD SCARE TAPES
Price And Quantity
Product Specifications
20-200 Meter (m)

25-75 MICRON
Mylar reflective flash

Other
Casting

HOLOGRAPHIC REFLECTIVE
100 Meter (m)

50 micron Millimeter (mm)
Product Description
SPICK GLOBAL OFFERS
spick global offer innovative solution to scare birds-humane bird scare tapes/ribbons/films just tie them and let them flow and most birds get scared with flash sound and reflection.sold worldwide ..safe way to get rid of pests.sold on amazon worldwide.

SCARE TAPES/BIRD REPELLER TAPES/FLASH TAPES/IRRI-TAPE PIGEON SCARER TAPES
HOLOGRAPHIC AND RED SILVER TAPES
WIDTHS-3/4,1,2,4 INCH
LENGHT-30-250 FOOT
THICKNESS-1-4 MIL
Irri-tape pigeon scarer is a bird and pigeon control product that visually scares pigeons and birds by the use of holographic images imprinted onto a polyester film. The images resemble owls eyes in an interlocking pattern and the 3-dimensional holographic surface reflects the colours of the spectrum as the tape moves. Irri-tape comes in the form of a tape, normally sold in 100 foot or 500 foot rolls, that is ready for use by simply cutting to size. The tape measures 2 wide and .0001 thick. Irri-tape has a considerable number of applications and will scare a variety of bird species including waterfowl and predatory birds.
Irri-tape pigeon scarer is effective, according to the distributor, because it flashes as it moves in the wind with constantly changing colours and patterns. The flashing 'ripple' effect unsettles the target species and is perceived as a danger signal. Viewed from a distance, Irri-tape has a reptilian sheen and as a result may beperceived as a predator by other birds, thereby scaring them. The perceived movement of Irri-tape, courtesy of the holographic images, may even be seen by the target species as a rival for food or territory.
Irri-tape not only scares pest species of birds visually but also by making a metallic rattling sound when caught in the wind. The combination of audio and visual scarers in one product makes Irri-tape pigeon scarer an interesting bird control option.
Trade Information
NEW DELHI,INDIA

10000 Per Day
7 Days

Free samples are available
EXPORT PACKING CONTRACT RETAIL PACKING AND LABELS PACKING FOR CLIENTS POSSIBLE

All India