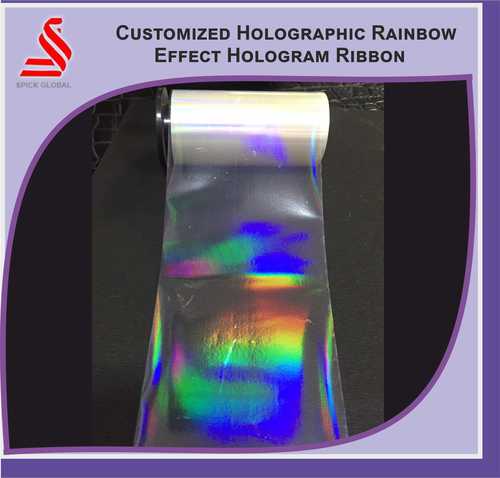 Customized Holographic Ribbon
Price And Quantity
Product Specifications
Product Description
These are custom and generic Designs which can be laminatedon cards using card printers lamination modules or by way of thermal transferusing the overlay modules,
Compatible with mostmachines and models like Matica,Zebra,evolis etc
Spick offers Metalised ,holographic Transparent ,coloredmetallic and Holographic ribbons which can be used on variety of compatiblewith most id card printers to print likek resin graphics,texts,logo and make own custom impressions on cards perfectfor small jobs .
We Offer Custom &Generic over laminate layer to prolong the life of your plastic ID cardand protect it from fraud and forgery. Over laminate ribbonsthat effectively shield your ID Cards from abrasion, wear-and-tear andtampering by adding a protective coating that cannot be removed withoutdamaging the card. Laminate coatings generally range from .06 mil to 1mil thick, and can be clear or contain fraud-proof holographicimages. Adding a laminate to your ID Card or Badge will saveyou money in the long run by protecting your PVC card stock, IDprinter ribbons and card printing equipment.
Holographic Ribbons-Varnish or Heat transfer are wound oncardboard cores for re wind onto Plastic cores of various machines and models
Standard roll length are for 350 cards or 400 cards or 625cards as per printers make/model
We offer rolls wound on plastic cores for zebra/evolis makefew models upto 625 cards each
Exports to:
USA, EUROPE, ASIA, AUSTRALIA, SOUTH AMERICA, NEWYORK, UK, LONDON, UAE, DUBAI, GERMANY, BELGIUM, NETHERLAND, FRANCE, SPAIN, CANADA, AUSTRALIA, NEWZEALAND, RUSSIA, UKRAINE, BELARUS, MOLDOVA, LATVIA, LITHUANIA, ITALY, GREECE, POLAND, ROMANIA, HUNGARY, SLOVAKIA, AUSTRIA, BOSNIA & HERZEGOVINA, BULGARIA, CROATIA, CZECH, REPUBLIC, DENMARK, ESTONIA, FINLAND, ARMENIA, TURKEY, GEORGIA, ICELAND, IRELAND, MACEDONIA, MONTENEGRO, NORWAY, PORTUGAL, SLOVAKIA, SLOVENIA, SWITZERLAND, SWEDEN, IRAN, IRAQ, JORDON, ISRAEL, PALESTINE, SAUDI ARABIA, QATAR, OMAN, BAHRAIN, KUWAIT, EGYPT, KOREA, JAPAN, VIETNAM, THAILAND, HONG KONG, CHINA, INDONESIA, MALAYSIA, SINGAPORE , PANAMA, COLOMBIA, CHILE, PERU, BOLIVIA, ARGENTINA, BRAZIL, BOLIVIA, ECUADOR, PARAGUAY, URUGUAY, VENEZUELA, MORROCO, TUNSIA, UGANDA , LIBERIA, GHANA, ALGERIA, ANGOLA, SOUTH AFRICA, KENYA, NIGERIA, CONGO, SUDAN, MOZAMBIQUE, TANZANIA, ZAMBIA etc.
Trade Information
Free samples available with shipping and taxes paid by the buyer

cartons and export packing These rolls are packed in moisture proof neutral box"s with shrink and stretch packaging further in master cartons for Export Delivery via Door To Door Courier/Air Freight or for Sea Delivery to Destinations all over the world
Asia, Australia, Central America, North America, South America, Eastern Europe, Western Europe, Middle East, Africa

All India