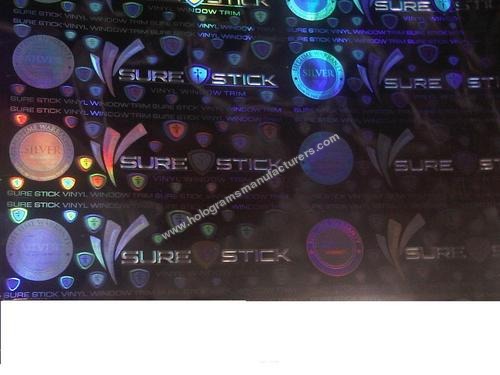 Customized Holographic Security Lamiantion Films
Price And Quantity
Kilograms/Kilograms

200 INR
Product Description
Customized Holographic Security Lamiantion films
We offer Customized Patterns,graphics,text ,images using sophisticated 3D,dot matrix technology to emboss Holographic images onto plastic films like polyester film(mylar) which in turn are laminated /uv printed and used in flexible packaging,box,cartons,bags etc for brand protection...
Holographic Films
Polyester and Bopp Films 2 side carona Treated for lamination and printing
Silver or Transparent with Custom Texts,Logo's,Designs
For Packaging labels,films,laminates,boxes etc
Available in widths 20mm-1000mm
thickness-13-40 micron for lamination etc
One Time custom tooling cost involved so that no duplication of Designs possible
Holographic films are ideal in packaging industry for flexible packaging. Wide web holographic film are commonly used for printing, gift-wraps, packaging, lamination, stickers etc. The richness of the film contributes to the sales that can be achieved by packaging of consumer items. In the recent past, holography has also developed into a major deterrent for duplication and counterfeiting of products.
The complexity of the holographic pattern makes it nearly impossible to be reproduced, by adding additional, nearly invisible authentication markings known only to our clients. Holographic product labeling with customized images, involves technologies that are out of reach of most counterfeit rings.
These films are available in geometrical and custom made pattern in Polyester,P V C., Polyester, B. O. P. P. from 10 to 50 microns thickness up to 1200mm width.We also supply Customized 3D films with clients name logo etc-details on request.
PET hologram film, 13 micron, 15, 19,23, 30, 50 micron thickness, silver, golden, green, blue etc.
OPP hologram film, 18, 20 micron, 30 micron thickness, silver, golden, green, blue etc.
Transparent OPP, PET hologram film 13-20 micron.
We now offer Thermal Lamination Grade Holographic films in thickness of 50 micron onwards
Applications
Pouches
Gift Wrappers
Lamination With Paper
Pressure Sensitive Sticker
Board Lamination
Adhesive Tapes
Standy Pouch
Carry Bags
Product Range
2D Two Dimensional
3D Three Dimensional
2D/3D Two/ Three Dimensional
3D Dot matrix generated images
Tube Light Rainbow Lamination Film
Customized Design Security Holographic Film
Thermal Holographic Films
De Metalized Holographic Films
Rainbow Holographic Film Shimless
Trade Information
Holographic Security Lamiantion Films