Holographic for ID Cards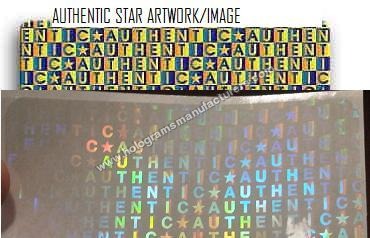 Holographic for ID Cards
Product Description
Authentic Star Holograms (SUMIRA-HIDO-005)

This multispectrum hologram has "Authentic" written horizontally with each letter in the word enclosed in a square. Stars also appear within the squares. As the card is shifted, the letters disappear into the squares. The hologram measures 2.01x 3.3 and fits all of our butterfly pouches perfectly. Each hologram is peel and stick and is applied manually. Holograms are ideal for enhancing the security of your card and increase the durability of the card surface. The picture shown is an artist interpretation of the hologram showing only the "flat" content on the hologram. The hologram plays with light beautifully and is a fantastic security measure for your IDs.

Our holographic transparent ID overlays are specifically designed to upgrade and improve security of your plastic or paper ID cards. Holographic image allows clear view of ID card information. ID overlays prevent photocopying and forgeries. Self adhesive labels are easy to apply.