ID Card Transparent Hologram Overlay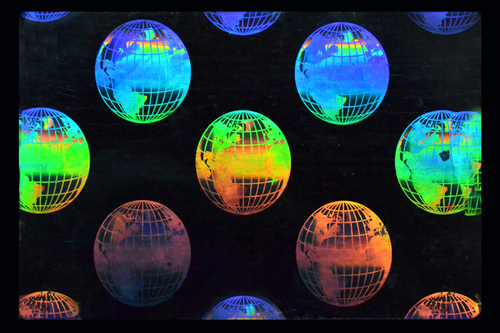 ID Card Transparent Hologram Overlay
Product Description
HOLOGRAPHIC OVERLAY PATTERN NUMBER SGHR-015
Holographic Films, Ribbons, Foils, Laminations for PVC Card Printers:

We manufacturer Special and Exclusive Solution to counter Fake IDs and control counterfeit with state of art Holographic Films/Ribbons/Varnish/Laminates for Branded PVC Card Printers like Evolis,Zebra,EDI,Nisica,Data card,Magic card,Fargo etc. A hologram is applied on the card in the form of a transparent layer, thanks to a special ribbon.

SPICK offers hologram ribbons:

The generic continuous varnish ribbon for thermal transfer printers (10 patterns to choose from)

The generic registered varnish ribbon for lamination
Over 20 patterns with texts and Geometrical patterns

Customized Hologram ribbons: A customized hologram solution, when a specific design is required to add security to your ID badges with custom designed hologram ID film from SPICK, designed to meet your companys security requirements!

Custom Hologram Film is now available for use with the following Evolis ID card printers, Zebra, EDI and others


Minimum order quantity is 10 rolls

Turnaround time is 4 weeks.

Clear black and white or color-separated artwork is necessary to achieve quality images. Half-tone, grey scale and full color images are not readily acceptable. AI, EPS, PDF (editable) or CDR files required.

Set-up fees vary depending upon design of custom hologram and are very reasoanble.