Made in USA-Hologram Labels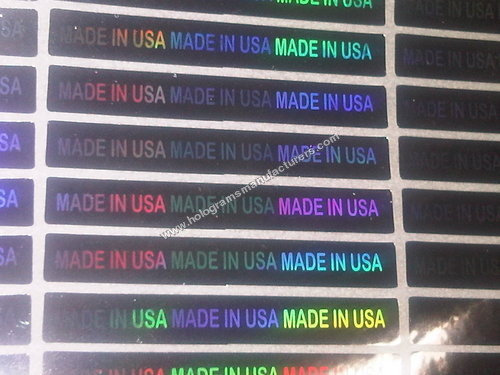 Made in USA-Hologram Labels
Product Description
Made in USA-Hologram labels
Generic 3D Hologram Labels-Void on tamper -50 stock patterns-Made In USA is available ex stock to put on all products as proof of Authenticity of Goods Made in USA on tamper-void text or honeycomb as proof of use.
We offer Generic Hologram patterns with no need of getting expensive masters or cylinder made.
Original/Warranty Void/Original Spares/Genuine/Ok Tested/Authentic/Secure etc over 50 to choose from available in all sizes and colors ex stock.
Can be overprinted with logo and names or additional designs at low cost ,can provide security features like de-metalized,laser etching,selective release with void/honeycomb/customized names
Available in sheets and rolls.