SVAG FLYING EAGLE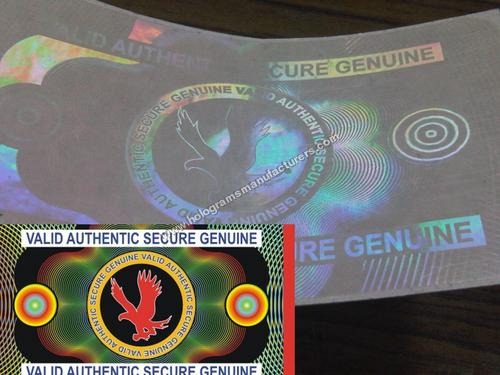 SVAG FLYING EAGLE
Product Description
Id Card Overlay Holograms
Secure your business with the unique multispectrum Flying Eagle-SVAG! The hologram contains a flying Eagle with Text secure valid authentic genuine around in a circle with same text in bold written on top & bottomThe hologram measures 2.125"x 3.3" and fits on butterfly pouches,cards perfectly.
Each hologram is peel and stick and is applied manually. The holograms are thin 2 mil thick so that the holographic film is hardly noticeable. Holograms are ideal for enhancing the security of your card and increase the durability of the card surface
Our holographic transparent ID overlays are specifically designed to upgrade and improve security of your plastic or paper ID cards.
Holographic image allows clear view of ID card information. ID overlays prevent photocopying and forgeries. Self adhesive labels are easy to apply.We also offer Custom Designs on order in Multi Dimensional images
Hologram Id Overlays-For PVC cards and Documents(A4 size)
Bespoke or Generic Patterns available ex stock - 25 Designs
Customized- stickers,pouch,thermal lamination etc
Transparent with Holographic Effects
Peel and Stick Labels
Butterfly Pouch/lamination Pouch
Thermal Lamination Film
Custom & Stock Film for Fargo/zebra PVC Card Printers