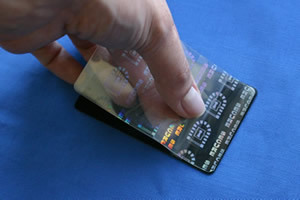 Transparent Hologram Imprints
Product Description
Transparent Hologram Imprints

Offering Transparent Hologram Imprints for ID Cards, PVC Cards, Hotel Cards, Corporate Cards, Loyalty Cards.
This is a multi spectrum hologram . is perfect for ID Cards for business. The hologram is clear and the information on the ID card content is visible at all angles. The hologram measures 2. 125"x 3. 3" and fits all of our butterfly pouches. Each hologram is peel and stick and is applied manually. Holograms are ideal for enhancing the security of your card and increase the durability of the card surface.
Our holographic transparent ID overlays are specifically designed to upgrade and improve security of your plastic or paper ID cards. Holographic image allows clear view of ID card information. ID overlays prevent photocopying and forgeries. Self adhesive labels are easy to apply.
Available in
52mmx84mm and 54mm x86mm sizes Standard CR79, CR 80 sizes for peel and stick on PVC cards and butter fly pouches
Over 50 Stock Designs and Custom Designs can be made.